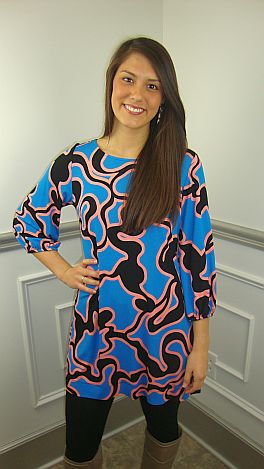 Squiggle Print Tunic, Blue
You guys LOVED this tunic / dress in the other prints, so we brought it back in this new squiggle design! We love it for so many reasons.... first, the length is perfect. It's not too short to be a dress, but not too long to be a top. Second, the fit is perfect. It's not too boxy that it looks like a moo-moo, but not so tight that it shows a muffin top. Third, the fabric is perfect. It's soft and stretchy like a knit, but heavy like a woven. It's the best of everything!!

Runs a bit generous. Hannah is wearing size small.