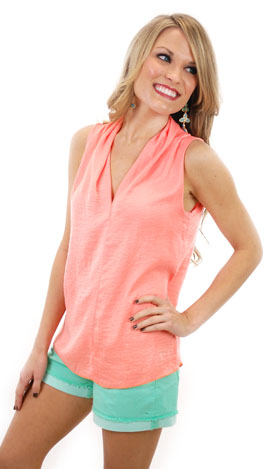 Silky Smooth Top, Orange
What do we love about this top? I can't choose just one thing, so let me tell you about the three main features. 1. The neckline - it stands slightly behind the neck, then sinks down to a flattering V - it's fantastic. 2. The fabric - it's silky smooth. When our model put it on, she did a little dance, not believing how ahhhmazing it feels against the skin. The inside of the top feels just like the outside, so it looks AND feels great. 3. The center seam - it creates a long lean look, and hey, we all love that, right?
Now available in 3 colors! This one is a bright, neon melon.
Fits true to size. Stacy is wearing size small.
Stacy

Size: 0
Height: 5'3"