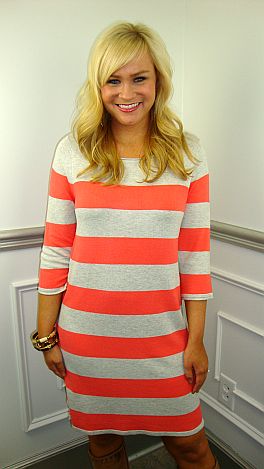 Sherbet Your Stripes Dress
Our jaws dropped when Ashley came out in this dress. It's just so DARN cute! The fabric is a light-weight sweater knit, but have no fear, its not clingy! The bold colors and trendy stripes feel youthful, while the conservative length lux fabric are totally chic. The fabric is a rayon / nylon blend, but you will swear your wearing cashmere! Wear it to the movies with riding boots and an over-sized bag, then take it to the beach with sunglasses and flip flops :)

Fits true to size. Ashley is wearing size medium.