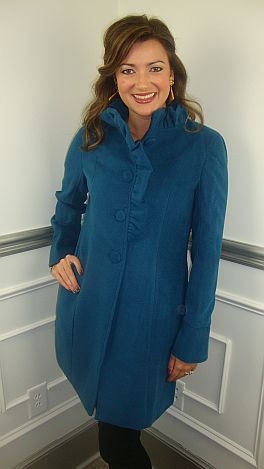 Queen B Coat
The magic of this coat is the fabric... it is a thick, "velvety", warm, fleece-like fabric... it will keep you feeling cozy, while looking as polished as the Queen! I adore the standing ruffle collar on this one. Standing collars are flattering on everyone, as they lengthen your torso and give you an instantly longer, leaner look! And... if the fabric and the collar aren't enough to pull on your heart strings, then this color will certainly do the trick ;) Number one rule of fashion school: Everyone looks great in blue! Get all this fabulousness at an unbelievable price! (Fully lined with side pockets)

Fits true to size. Amber is wearing size medium.
SALE ITEMS ARE FINAL SALE.