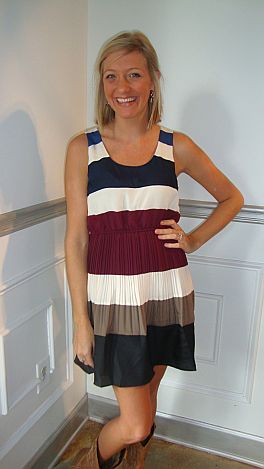 No Boundaries Stripe Dress
This piece comes alive with bold stripes of ivory, powder blue, navy, burgundy, taupe and black. It features an elasticized waist for a flattering fit and intricate pleating at the hips. You can do so much with this piece: Pair it with a cardigan, skinny belt, tights and pumps for the office. Change it up for the weekend with bare legs, boots and an armful of bangles! When the weather cools down, top it off with our fabulous cream coat, as shown in the photos!

This dress fits true to size, but is a bit short. If you are taller than 5'7" you will like it best with tights or leggings.