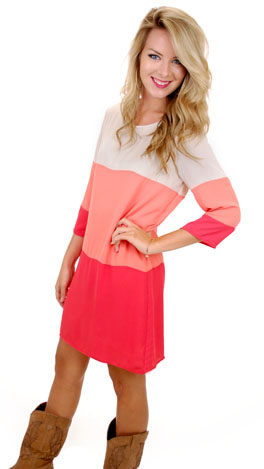 My Gosh Dress, Mocha
As this dress was being un-packed, every person who walked by ohhed and ahhed and screamed "OH MY GOSH - it is sooo pretty," thus the name :) Obviously the colors are gorgeous, but we also love this style for it's longer hemline and no-fuss design. With any undies, for any occasion, this dress WORKS. It is fully-lined with a pull-over fit. No zippers needed. Now the only questions is, which color? This one is mocha (the top color is a bit darker than it looks in the photo) with coral on bottom.
The fit is a bit generous. Marlena is wearing size small.