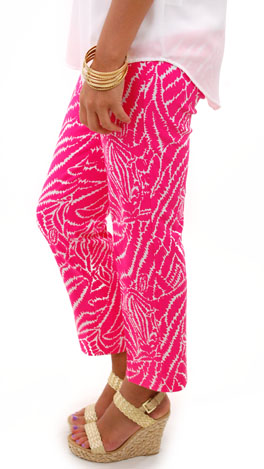 Lilly Pulitzer Luxury Capri
For ages, Lilly Pulitzer has been known for her capri pants. And it's easy to see why. With her amazing fabric, impeccable construction and proven fit, they are the pant every woman needs! These are a bright (almost neon) pink and white combo in a fabulous stretch twill. 59% cotton, 33% modal rayon, 8% lycra. A tabbed waist ensures a smooth front and a 26" inseam means they look great with shoes of any heel height! Trust us, you are going to ADORE these pants!
Fit true to size. Avery is wearing size 2.