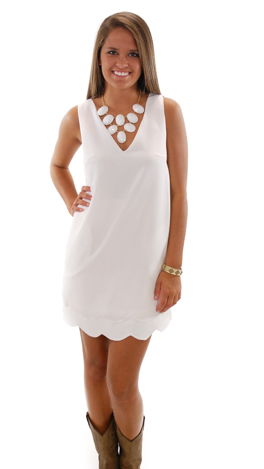 Lah Lah Land Dress, White
Oh my gracious, get a load of that hemline!!! Adorable scallops give it a unique twist, sending this dress straight to the top of our summer essentials list! It's sooo cute, but also soo easy, thanks to the forgiving, shift dress fit and solid color. You can change it up a million different ways, wearing it from day to night with ease. It's short enough to look great with flats, but is also fabulous with a little heel. Add colorful accessories, if you wish, or keep it clean (and nautical-looking) with all gold.
Dress is fully-lined and slips over the head. Fabric is really nice and has crepe texture throughout.
Fits true to size. Measure approx 32" from shoulder to hem. Avery is wearing size small.
FINAL SALE