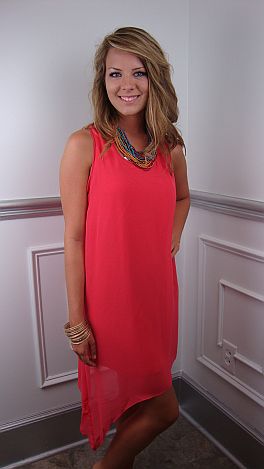 Lackadaisacal Dress, Coral
I am having a love affair with this dress. It is loose and comfortable, but still completely chic. Chic AND comfy is a rare combination, so when you find it - JUMP on it! This dress has a soft, knit liner with a sheer overlay on top. The trendy asymmetrical hemline is just the cherry on top. Love. It.

Fits true to size. Marlena is wearing size small. Many of you were asking about length, so we just added a photo of Amber, who is 5'8", also wearing this dress. She is in a size medium.