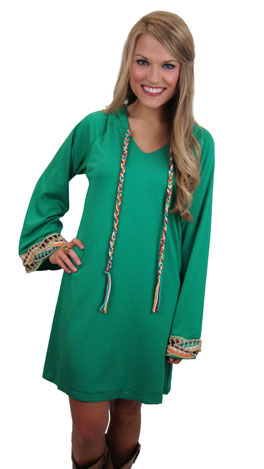 Judith March Rainbow Bright Hoodie
I may have a had a heart attack when we pulled this out of this box. It is possibly the COOLEST thing I have seen all year! It's basically a sweatshirt blended with a dress! The fabric is a thick, ponte knit... extremely comfortable and oh-so-cozy! The bell sleeves are trimmed in multi-colored yarn, held together by metallic gold thread. Hiding beneath the hood is a little pee-a-boo cut-out....big enough to be sassy, but small enough to keep it bra-friendly!

Fits true to size. Stacy is wearing size small.