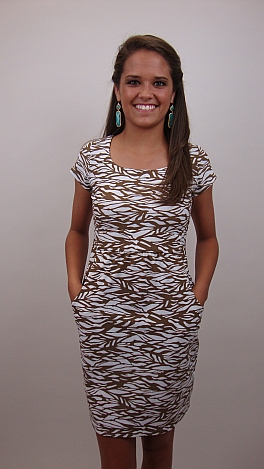 Jude Connally Out on a Limb Dress
Just in from Jude Connally... we love this line for so many reasons, the fabric being #1! It is a luxurious thick fabric with all-over stretch... it does not cling and gives amazing shape to every figure! As always, it is made in the USA and the fabric requires no dry cleaning - just wash and wear! We were excited to see a short sleeved dress from this collection for Fall! While the golden brown print feels like Autumn, you can still wear it during these hot months! This dress has a very flattering waistband (tiny gathers in the perfect places) and also features side pockets!

Avery is wearing size XSmall. Fits true to size.