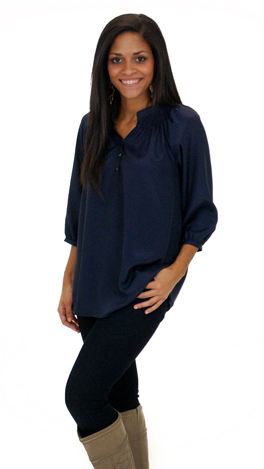 Here To Stay-ple Blouse, Navy
The questions isn't IF you should buy it, the question is in how many colors! All of our stylists own this top in at least one color - it's simply THE best staple you can own! It's roomy shape and longer length make it not only easy to wear, but incredibly stylish to boot! Tucked into a skirt, it's a savvy and crisp professional look. With shorts and bold jewelry, it's relaxed and preppy, and with skinny jeans and boots you've got a classic equestrian vibe going on. How many ways can you wear it?
Fits true to size, if not a bit generous. Elli is wearing a size small.