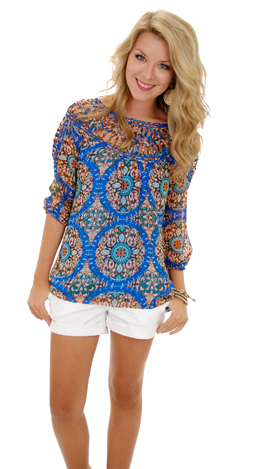 Figure 8s Blouse
Yep...just go ahead treat yourself... you know you want to! And you should.. just think of all the places you can wear this top! From the bright colors to the figure 8 lattice detailing around the neck and shoulders, this blouse is perfect for anyone! The fabric is lightweight and the fit is slightly boxy, flattering all shapes and sizes.
We paired this over a cami for added coverage, but you can really get away without one, if you wish. The print creates a camouflage, allowing you to wear it with just a nude bra.
Fits true to size, if not a wee bit generous. Marlena is wearing a size small.