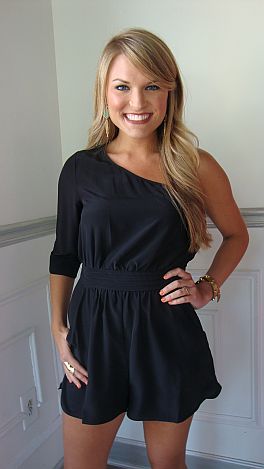 Electric Slide Romper, Black
Rompers aren't just for casual days, ladies! The Electric Slide romper, for example, is fabulously sophisticated! 100% silk and with only one shoulder, this romper is about as glamorous as it gets! The striking black color and the gorgeous cut will make everyone glance your way, but it's the details that will make them fall in love with your outfit! A single brass button adds a touch of shine, and the band around the waist is made up of tiny pleats. With pretty sandals and beaded jewelry, it's great for day, but with a chic blazer and snakeskin heels, you have the perfect outfit for a night!

Fits true to size. Stacy is wearing size XSmall.