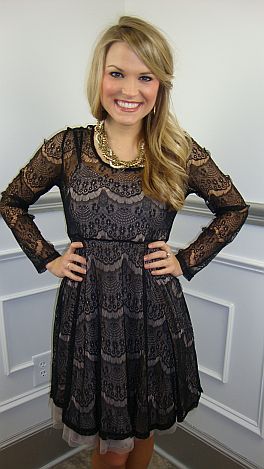 Double Trouble Dress
This dress is actually two separate pieces: a nude spaghetti strap dress and a long sleeve black lace topper. The nude layer is just a touch longer than the black, so it peeks out at the bottom:) This is SUCH an easy dress to wear... It simply pulls over your head and tah-dah, you look amazing but feel unrestricted, as if you are in your favorite nightgown! We photographed it with boots and without to show you how a change of your shoe easily takes this dress from day to evening!

Stacy is wearing a small. It was a teeny bit big on her.