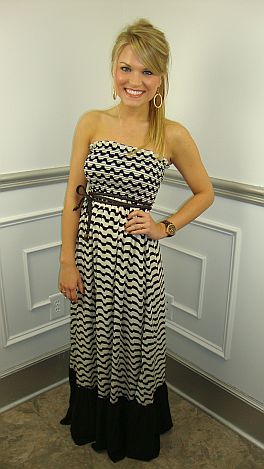 Courtney Maxi, Black
Alright ladies, we have found the PERFECT maxi dress! It's got the cutest wave-like print, small ruffles at the top, a solid bottom, and an adorable removable tie belt that wraps around the waist multiple times. One of our favorite things, however, is that it's not so long that you have to be super tall to wear it! Stacy is only 5'3 and she is barely on her tip toes in this photo. The smocking across the top makes it an easy fit and keeps it perfectly in place! Gotta love that :)

Fits true to size. Stacy is wearing size small.