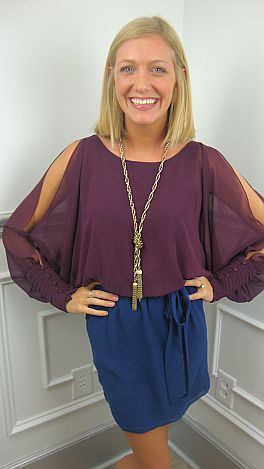 Blueberry Wine Dress
WOW!!! This dress is ahhhmazing! It is purple and navy with a blousson fit and gorgeous slit sleeves! While it looks fancy schmantz, it's really a no-fuss dress! It simply slips over your head without a zipper and the waist is defined by a strip of hidden elastic! When we bought this dress, our rep said "Go ahead and stock up on it. All the girls go CRAZY over this one!" After seeing it on Kimberly, we totally understand what he meant!

Fits true to size. Kimberly is wearing size small.