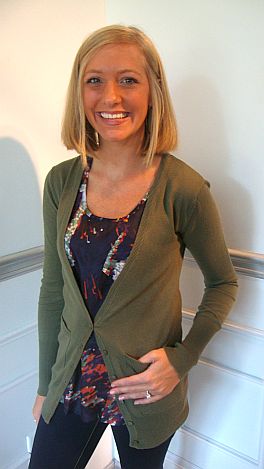 Best Boyfriend Cardigan Olive
If you are going to wear a cardigan this year, be sure it is a boyfriend cardigan! Wear it open, wear it closed, build an outfit around it, or simply keep in in your purse for a chilly restaurant! This one is a yummy olive shade and looks great over our multi-color silk tank! Picture this: dark jeans, white tank, olive cardigan… sleeves pushed up… stacks of gold and wooden bangles… oversized brown handbag… oh yeah!!

Runs a bit small. Kimberly is wearing a small.