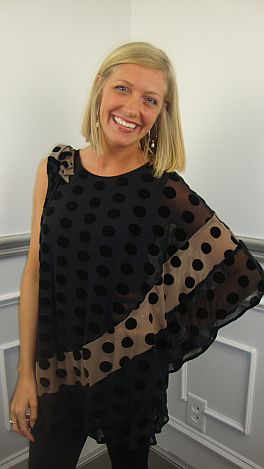 Be Spotted Out Tunic
Old Hollywood meets New York Fashion week in this unique frock! It is covered in black velvet polka dots and has a sheer overlay that drapes beautifully over one arm. AND, to top it all off, there is an adorable bow on the right shoulder. For those party invitations with ambiguous dress codes like "Festive Chic" or "Dressy Casual," THIS is exactly what you wear! Simply add black tights or leggings for a fabulous outfit! It's the perfect way to be "dresseup up" without wearing a cocktail dress :)

Fits true to size. Kimberly is wearing size 2.