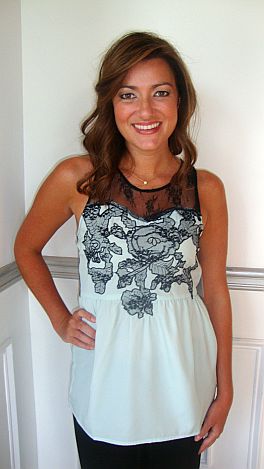 Bat Your Lashes Lace Top
This top has a very "Nanette Lepore, four hundred dollar price tag look" to it, but looks can be deceiving can't they ? :) We love a great knock off at The Blue Door! This one is pale mint green with stunning black lace detail. It has a side zip and sheer back. Because of all the detail across the bust, you can probably get away without wearing a bra. Of course, we sell the stick on Nu-bra if you need one. Make it cocktail or wear it with black skinnies to dinner!

Fits true to size. Amber is wearing a medium.